DigitalOcean is a simple and robust cloud computing platform, designed primarily for developers. It's the server hosting solution we use for hosting BeaverBrains.com and other client sites.
DigitalOcean sets themselves apart by offering a modern and clean interface that's easy to understand and navigate. Their command centre makes configuring cloud servers and development frameworks simple and intuitive. There is an active section dedicated to developer community topics and they have a number of useful integrations that make managing whole servers really easy.
Creating a DO Droplet
When you go to create a Droplet in DigitalOcean, you choose between a number of different server options including, Ubuntu, FreeBSD, Fedora, Debian, CoreOs and CentOS or you can simply spin up a 'one-click' app, of which there are many.
We tend to spin up a simple Ubuntu server and then head over to ServerPilot to manage the installation and administration of multiple client websites on one server.
However is you prefer to spin up a WordPress instance straight away it's as easy as clicking on the WordPress option and DO will do the rest. Whatever you choose, DO will give you the option of sizing your server according to your needs – either adjust the CPU and RAM, or adjust CPU, RAM and Disk in one process. They do make it really easy to resize your droplet, but you need to power down the server to do so.
Global Datacentres
DO offer a number of global datacentre regions so you can choose hosting closest to you or your audience. Options include New York, San Francisco, Amsterdam, Singapore, London, Frankfurt, Toronto and Bangalore. Sadly no South American or African locations as yet.
You can select additional options like setting up a private network, regular backups, IPv6 and you can add an SSH key for accessing the server over SSH and SFTP.
The nice thing about the server setup routine is that you can create a droplet and deploy multiple versions of it on the fly.
Monitoring and Backup
Once your droplet is set up you'll have access to public bandwidth, CPU and Disk charts giving you an overview of the performance of your machine. DO allow you to setup a regular backup of the entire server (additional $4.00 per month for our server) or you can create your own server snapshot on the fly. You don't need to power down your server to take a snapshot but data integrity could be compromised if you have a lot of traffic, comments and posts being added by clients whilst the snapshot is being made.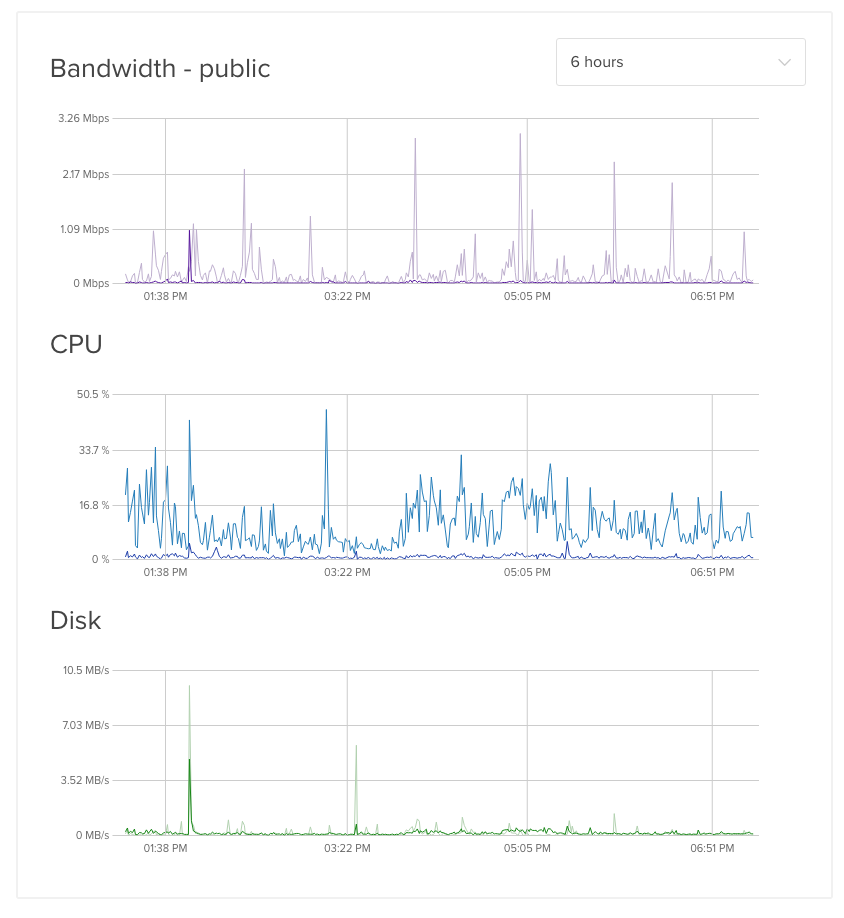 Block Storage
A new feature, SSD Block Storage ranging from 1GB to 16TB, gives you the opportunity of adding additional 'volumes' to your server to manage additional data. Volumes are charged at a rate of $0.10 per GB per month. For example, if you create a 100GB volume, you would be charged an additional $10 per month. Currently New York and San Francisco only.
Domain Management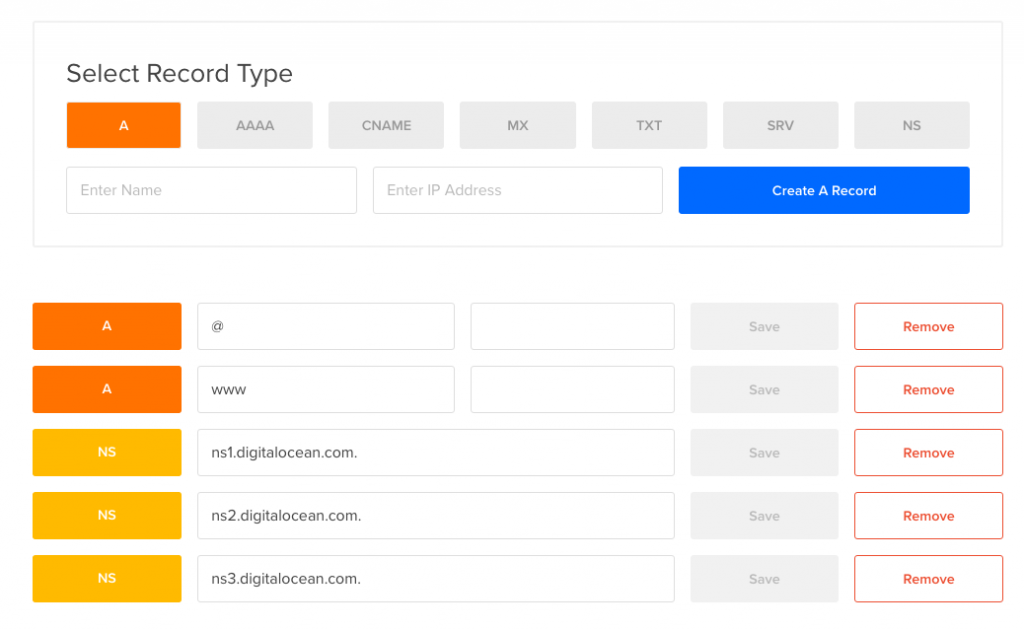 DigitalOcean domain management is one of the cleanest interfaces for managing complex domain setups we've seen. Updates, like those weve seen on Amazon's Route53 are super quick to update which is useful if you're working with a new live WordPress install. Quick global DNS updates are a must!
User Accounts & Billing
One of the great features of DO, is their user, organisation and team accounts. You can sign up with your own username, or sign up using your organisation details and then add additional users to your account to help manage the hosting account.
Each account holder can be assigned an 'Owner', 'Member' or 'Biller' role allowing you to segment their activities according to need.
The billing page, like every other page on DigitalOcean is quite simply 'crafted' – in fact, the whole DO experience is super minimal and clean which really helps when you trying to find stuff.
You can pay with a credit or debit card or PayPal and you can set billing alerts anytime your account monthly usage exceeds the amount you stipulate.
Support
DigitalOcean's support centre is loaded with really useful articles. You can learn about DO functions and services through their support pages and they also publish great articles about hosting, servers, computing languages and more on their developer community site.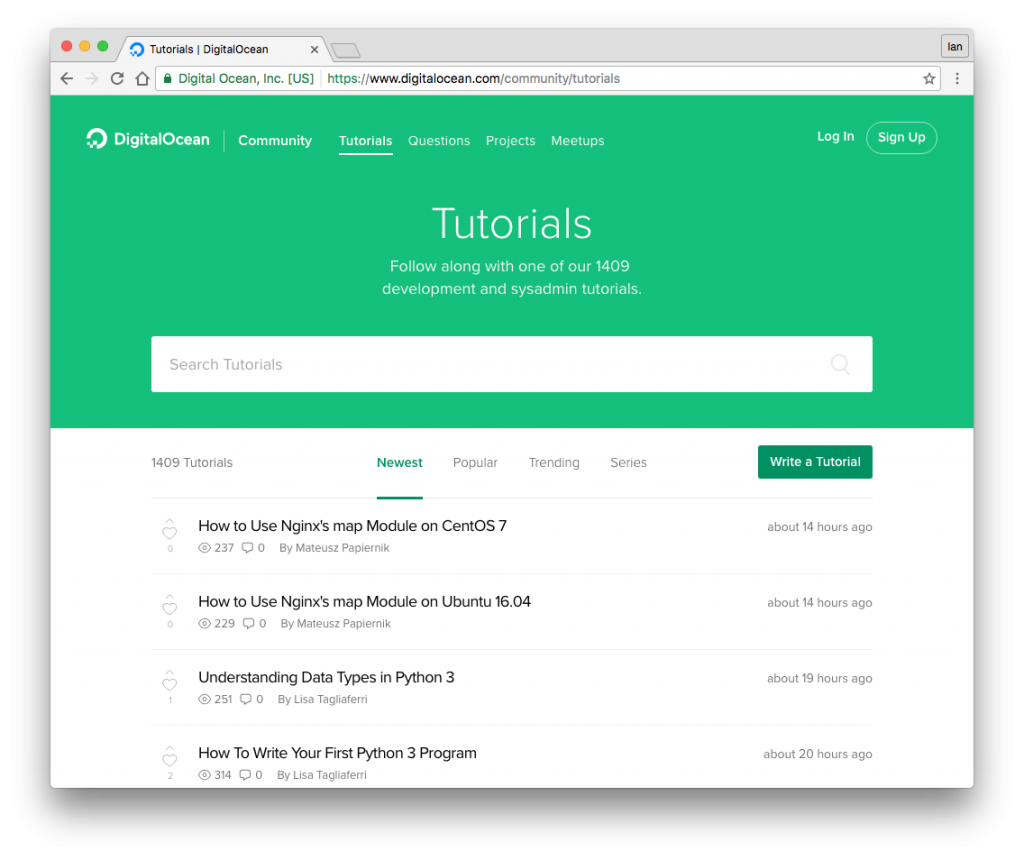 DigitalOcean has one of the neatest tutorial sites we've seen – articles are laid out really well with great screenshots and you can add comments and share articles on social networks just like any other blog. The knowledge base is a true example of how to do it right.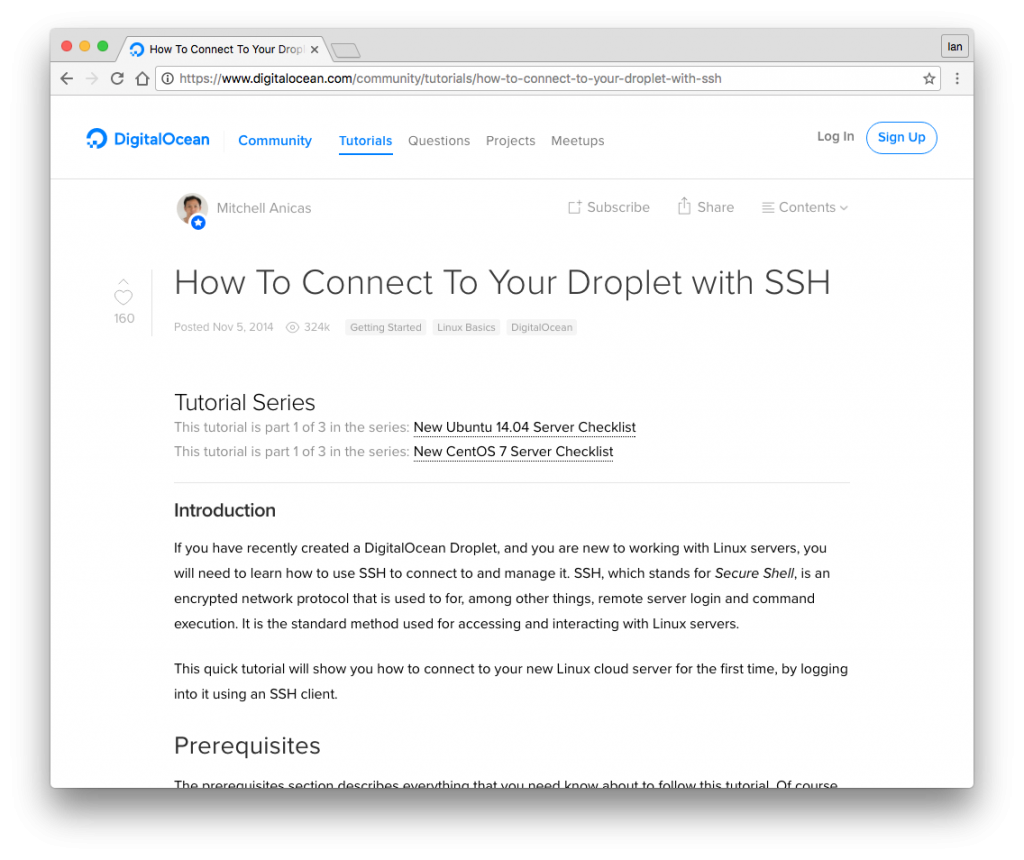 We've never had any reason to use the support ticketing system, so I sent a support ticket just to test it out. I received an immediate acknowledgement email and I'll update you on how long it took to receive the response. UPDATE: The response time was 20 minutes.
Conclusion
DigitalOcean is not just a pretty face – in our experience hosting beaverbrains.com and 10 other client sites on their servers, we've never had a day's issue. Functionally, DO provides all the tools we need and performance wise – well we run beaverbrains.com 2gb / 2cpu server with 40gb disc space alongside other sites and we do it without any caching on our server or in WordPress. You tell me if beaverbrains.com is slow?
All in all, we love the clean layout, excellent functionality and superb resources available on DO and would definitely recommend them to anyone asking.